Seminar and Tea Break Cake Package By Happy Oven

Having an upcoming seminar events or an important office meeting? Save the hassle of stressing out on what to choose with our corporate package that comes at an affordable price. With a mix of sandwiches, pastries and cakes, your guest and colleagues can now enjoy a sumptuous breakfast/tea break! Perfect for corporate events & functions, seminars and office meetings!

Package Includes (Suitable For 10 Pax)
10 Apple Crumble King
10 Sandwich
10 Sugar Rolls
10 Eclairs


Package includes Our Signature Apple Crumble King

One of our top 5 MUST TRY selections, imagine taking a bite into the crunchy streusel crust, and you are greeted with the tender and flavourful apple filling that has a hint of cinnamon and raisins that enhances the overall flavor. It's just a little bit of heaven, right there… Highly recommended by top food bloggers!
Our Signature Sugar Roll
One of our top 5 MUST TRY selections, This is a much-loved traditional cake that is timeless and goes incredibly well with coffee. Hmm… Yumsss!!! The feather-light vanilla sponge cake combined with that perfect spiral of buttercream and lightly coated with caster sugar so that the sweetness is just right. Highly recommended by top food bloggers!
Our Signature Eclairs

One of our top 5 MUST TRY selections, We have made our Chocolate Eclair's crust thin to allow the flavour of our signature house-made chocolate cream to shine through. The cream will be so light that it is almost weightless on your tongue and it comes with a pleasant lingering chocolate flavor. How delightful!!! Highly recommended by top food bloggers!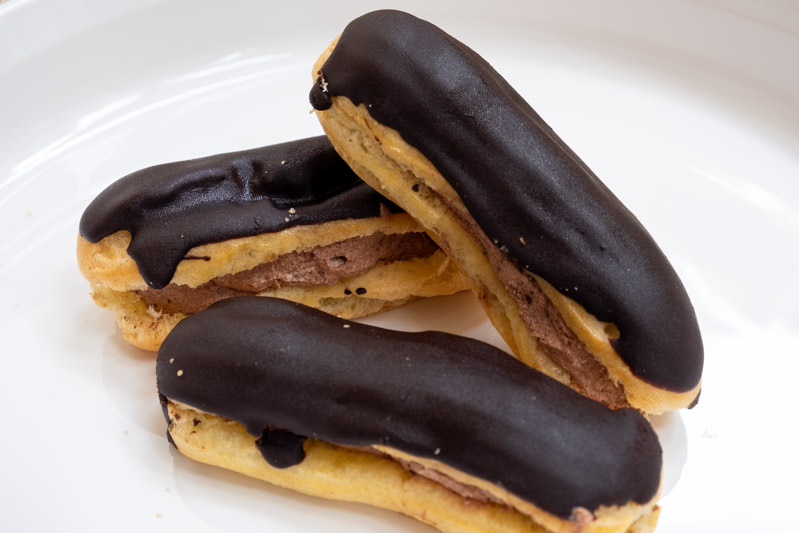 *Notes On Delivery*
Orders can be placed from a minimum of 3 days and up to a maximum of 30 days in advance of the intended date of delivery. Any orders that is made less than 3 days in advance will be cancelled.
It is essential that when delivery is confirmed, someone is present to receive the cake(s) at the specified time interval. We are unable to leave your order unattended since our cakes may deteriorate if left on the doorstep.
We cannot be held liable for any damage that is rendered to the cake(s) and/or any other products purchased from us after delivery or collection. Once our products has been delivered/collected, we will not accept any liability for any damage sustained.
Location Exclusions
We do not deliver to Marina Bay Sands, Jurong Island, Tuas, Changi Airport or any restricted airline and cargo areas, BBQ pits as well as locations outside of mainland Singapore including Sentosa Island. Any orders made to the excluded locations will be cancelled.
Force Majeure
Neither we, nor any delivery service that we use shall be liable for any failure to perform, where such failure or delay results from any circumstances outside our reasonable control including but not limited to any fire, flood, explosion, accident, adverse weather conditions, traffic congestion, mechanical breakdown, obstruction of any private or public highway, riot, government act, act of war, terrorism, act of God, or from any industrial dispute or strike whatsoever.